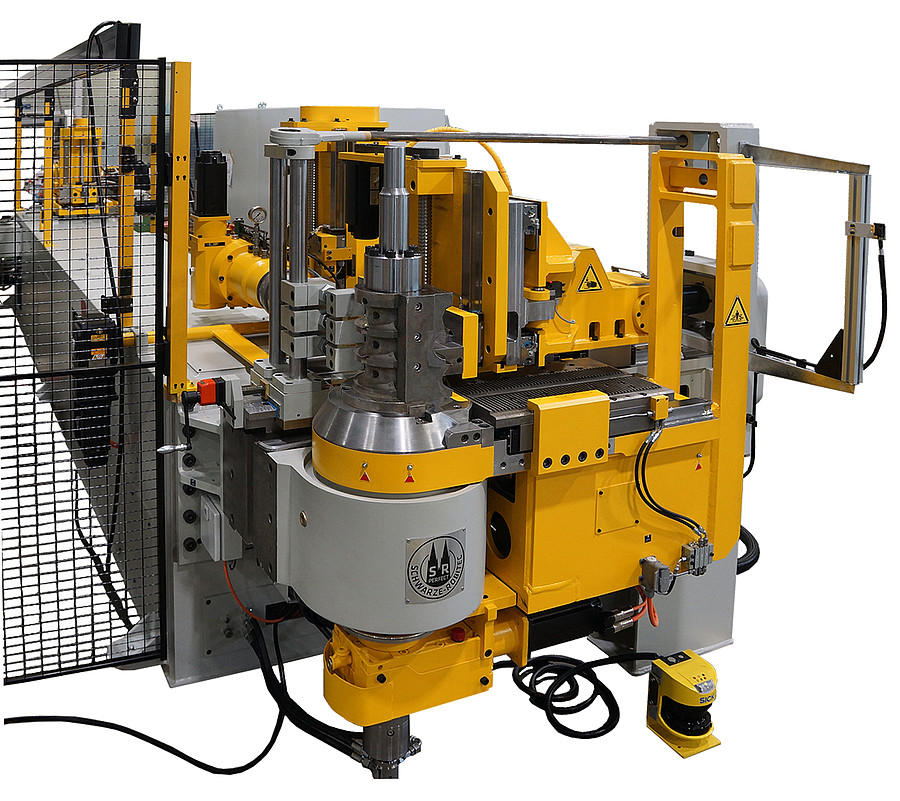 Order from automotive supplier
Joint Perforating Company banks on Schwarze-Robitec
Schwarze-Robitec has landed a new order: The Joint Perforating Company Ltd (JPC), a subsidiary of UK-based UKF Group, has ordered a CNC 80 E TB MR from the German-based manufacturer of tube and pipe cold bending machines. The automotive supplier is set to use the fully electric tube and pipe bending machine for exhaust system components, among other things. The machine forms part of the High-Performance series from Schwarze-Robitec.
JPC, a subsidiary of UK-based UKF Group, specialises in the production of perforated components made directly from a tube in a diverse range of materials. The company has also diversified into a variety of other tube-related services, such as bending materials used in the production of auto parts. For this field of application, JPC is reliant on tube and pipe-bending machines that process large quantities while maintaining a consistently high level of precision. The new CNC 80 E TB MR supplied by Schwarze-Robitec enables the supplier to achieve these goals. Offering fast cycle times, the fully electric machine is specially designed and optimised for multi-shift operation in the automotive industry. Quick Tool Unlock, the rapid clamping system devised by the German expert for tube cold bending machines, enables the bend formers to be changed swiftly, with almost no tools required. This reduces refitting times, which in turn enables the tube bending machine to deliver higher productivity.
Positive experiences with Schwarze-Robitec
In a bid to achieve a high level of repeatability when grappling with challenging geometries and bending materials as well as thin wall thicknesses, Schwarze-Robitec has integrated a vertical height-adjustable pressure die into the multi-stack tube and pipe bending machine. This leads to a noticeable improvement in bending results with multilevel bending tools, as the pressure die always travels to the bending level required in each specific case. As such, users are able to better gauge the requisite bending forces and consistently apply the optimal contact pressure to the tubes they plan to bend. JPC had already been using a Schwarze-Robitec tube and pipe bending machine prior to ordering the new machine, and its positive experiences played a key role this time around. The consistently high quality levels seen in bending results as well as the reliable service it received at all times were the main factors in the British company's decision to place its order with Schwarze-Robitec. The new CNC 80 E TB MR is equipped with a diagnosis function that enables the machine to be maintained remotely. Schwarze-Robitec is also integrating the system into JPC's production software.