HEAVY DUTY mandrel bending machines for the production of small series and single bends
The semi-automatic mandrel bending machines from the HEAVY DUTY range offer an economically interesting alternative to our CNC machines. For example, they are perfect for manufacturing single bends and smaller series for use in shipbuilding, the offshore industry and plant construction. They are cost-effective without compromising on quality or performance. Equipped with special tools, these machines can be used to bend both thin-walled and thick-walled tubes to meet your requirements. The machines are controlled easily and intuitively via a touch screen so bend angle corrections can be implemented directly.
A strong basis
Like our fully automatic CNC machines, our semi-automatic HEAVY DUTY range is based on extremely stable basic machines with a very high level of rigidity. This enables them to withstand maximum bending forces and ensures sufficient reserves. You can therefore be sure of sustainable reliability and first-class bending results.
Based on experience
Efficiency also means selecting the most cost-efficient methods that yield the best possible results. A semi-automatic solution may be the right choice for you, not least because of its flexibility and ease of operation. Our machines give you uncompromising access to all the benefits provided by a premium manufacturer.
The combination of first-class tube bending technologies, add-on modules and a global service offering provide you with a unique, high-performance and future-proof package.
The benefits at a glance
Our semi-automatic tube cold bending machines are a particularly cost-effective alternative, especially for single bends and small series production. If you would like any further information or you need advice about your individual specifications, please contact us without obligation.
Especially high performance for thick-walled tubes

For tubes with a diameter of up to 450 mm

Easy operation

Functional equipment options

Suitable for single bends
Customised bending solutions: more than the sum of their parts
Individual requirements call for individual solutions – the entire package needs to be right.
Our modular machine and accessory ranges enable us to work with you to tailor the most efficient tube bending solution for your application. From optimal tooling for your machine and smart and user-friendly control systems to high-precision measuring devices and software-based tube bending simulation: there are virtually no limits to the available options. Our many years of experience working with customers in different industries helps us to find the right technology and service solutions for your specific requirements.
HEAVY DUTY – robust tube bending machines for plant construction, shipbuilding and the offshore industry
Our HEAVY DUTY machines are designed for continuous use in tough conditions. Their particularly high rigidity prevents the machine body from twisting at high clamping forces which results in high-quality bending results even in fast production cycles. Whether you are producing complex geometries or different bending radii, our HEAVY DUTY machines ensure maximum precision at high forces – all in a user-friendly package.
Please feel free to contact us for advice about the right machine for your needs.
Automatic tube bending machine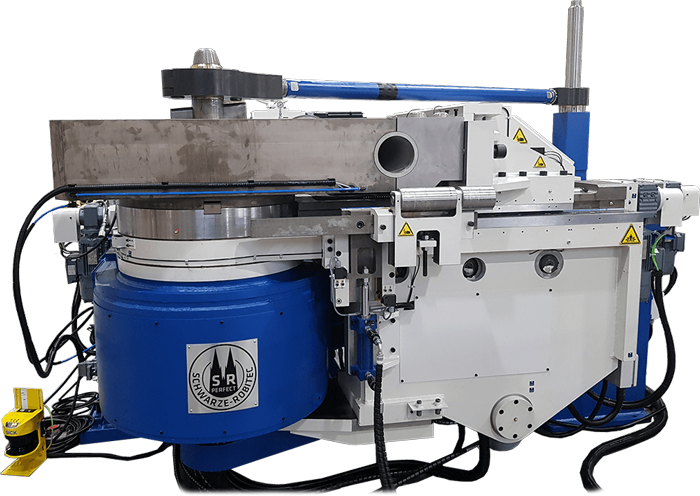 Tube bending machine with multi-stack bending tool
The world's leading expert in tube bending machines
We are a world-leading company with decades of experience in developing and producing high-quality tube bending machines. From machines for custom manufacture and small batches and tube bending machines for large-scale production to special units for highly complex tube geometries – we have the right solution for every tube diameter, application and industry. Whether you are looking for a hydraulic, (part-)electric or hybrid drive, a smart EcoLine package or a combination with one of our modular equipment options, our portfolio includes the right solution for your specific needs.
See for yourself or contact us directly for an individual consultation.