The bending radii our customers dream of
Our tube bending machines enable our customers to process even high-strength materials – from very large to extremely thick-walled and thin-walled tubes with the smallest bending radii. They produce complex geometries in a single operation and manufacture three-dimensional tube systems without the need for welding.
Non-destructive processing
Cold bending technology is a means of non-destructive processing for those materials which cannot be heated because this modifies their structural condition. Hot bending processes are therefore not suitable for these materials. By contrast, cold-bent tubes can withstand even aggressive substances for many years.
Tube bending machines for the chemical industry
We develop the ideal solutions for the most complex production challenges, whether you need machines to handle 40-metre tubes or an entire tube workshop with integrated tube magazine and automatic tube feeder. Maximum productivity and minimal downtime ensure your supply capability at all times.
Our machines are easy and intuitive to operate and can be integrated seamlessly into all relevant networks and programs.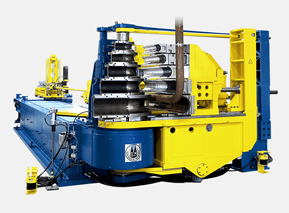 Heavy Duty
Our Heavy Duty machines enable you to bend double-walled and flanged tubes for fitting into existing systems. To preserve your resources and reduce costs, we have integrated a residual length optimisation system into the machines.