Efficient, reliable and suitable for universal use: our single-stack CNC tube bending machines
Our single-stack CNC tube bending machines are true all-rounders. The machines from our HIGH PERFORMANCE range can bend tubes with a maximum diameter of 160 millimetres made from all standard materials such as aluminium, titanium, steel and stainless steel. Thanks to the intuitive CNC control, they are suitable for universal use and especially user-friendly. The material-friendly cold bending process used by our single-stack tube bending machines ensures particularly fast and energy-efficient manufacturing and has virtually no impact on the structural condition of the materials. This makes it possible to produce even three-dimensional tube systems in short cycle times without a single weld. We also offer a sophisticated, modularly configurable range of accessories for every system.
Ideal for series and large-scale production
The machines from our HIGH PERFORMANCE range have been developed specifically to meet tube bending challenges in series and large-scale production. The users of these machines benefit from short refitting times, fast cycle times and maximum precision. At the same time, the machines ensure a high degree of flexibility. Machine downtimes are avoided due to our high quality standards and the manufacturing quality of our products.
A tradition of quality
All our tube bending solutions focus on the individual requirements and features of your manufacturing process. Thanks to our decades of experience, we are able to design and produce customised solutions of the highest quality. We offer you an incomparable package of innovation, services, experience and quality "Made in Germany".
The benefits at a glance
Thanks to their uncompromising efficiency and precision, our single-stack CNC tube bending machines are ideal for challenging tube bending applications in series and large-scale production. If you would like any further information or you need advice about your individual specifications, please contact us without obligation.
Suitable for universal use

Fast, efficient and precise

Extensive range of optional extras

Short refitting times

For all geometries bent on a single plane

Suitable for three-shift operation

Automation option available
Customised bending solutions: more than the sum of their parts
Individual requirements call for individual solutions – the entire package needs to be right.
Our modular machine and accessory ranges enable us to work with you to tailor the most efficient tube bending solution for your application. From optimal tooling for your machine and smart and user-friendly control systems to high-precision measuring devices and software-based tube bending simulation: there are virtually no limits to the available options. Our many years of experience working with customers in different industries helps us to find the right technology and service solutions for your specific requirements.
HIGH PERFORMANCE – tube bending machines for series and large-scale production
The CNC tube bending machines from our HIGH PERFORMANCE range are the perfect answer to the exacting requirements of series and large-scale production. Thanks to their speed, performance and flexibility, our modular tube bending solutions allow fast cycle times without compromising manufacturing quality.
We offer different approaches to suit every requirement. In addition to our single-stack machines, we supply highly flexible multi-stack machines, machines with two bending heads for especially complex tube geometries and complete bending cells as fully automated package solutions.
Please feel free to contact us for advice about the right machine for your needs.
Multi-stack CNC tube bending machines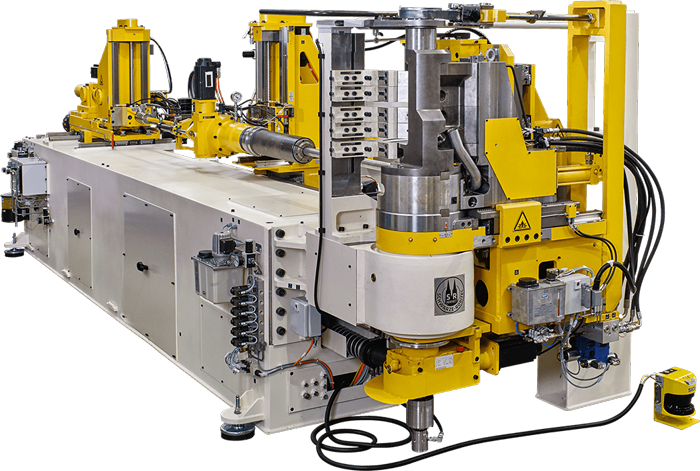 Tube bending machines with two bending heads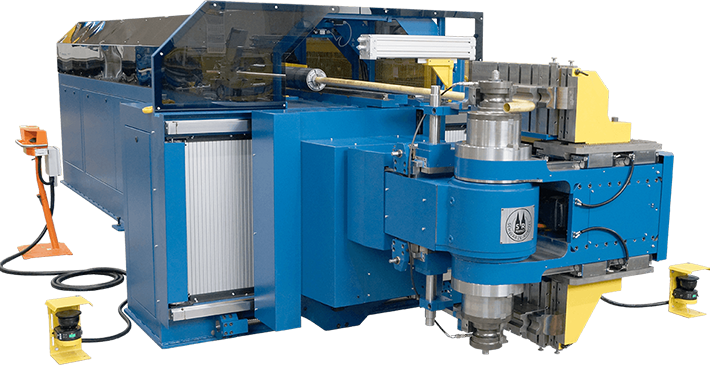 Fully automated bending cells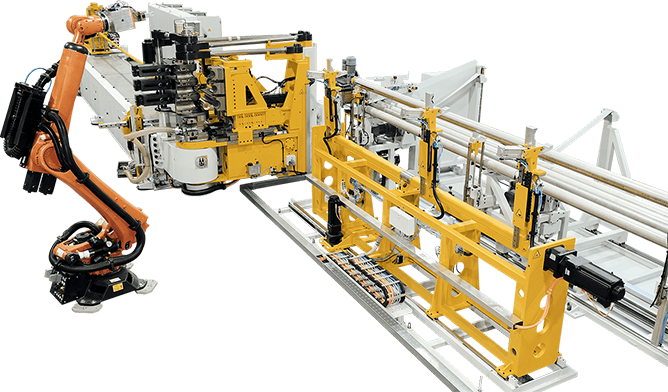 The world's leading expert in tube bending machines
We are a world-leading company with decades of experience in developing and producing high-quality tube bending machines. From machines for custom manufacture and small batches and tube bending machines for large-scale production to special units for highly complex tube geometries – we have the right solution for every tube diameter, application and industry. Whether you are looking for a hydraulic, (part-)electric or hybrid drive, a smart EcoLine package or a combination with one of our modular equipment options, our portfolio includes the right solution for your specific needs.
See for yourself or contact us directly for an individual consultation.