Multi-directional bending: tube bending machines with two bending heads
With the universally applicable CNC Rotary and CNC Twin tube cold bending machines you can realize even complex geometries with ease. Combined with transport boost and multiple-radius technology, the two independent bending heads of the Twin machines facilitate the optimal and cost-efficient production of tube systems. With their independent bend die axis and rotating, the Rotary machines have the special advantage that tubes can be bent both clockwise and counter clockwise in a single operation. They can also be used to process preformed tubes. In this way, it is possible to manufacture, for example, complex tube systems for automotive, furniture and aerospace applications. If required, the CNC tube bending machines can be expanded to create a fully automated bending cell.
Developed for series and large-scale production
As part of our HIGH PERFORMANCE range, the CNC Twin and Rotary tube bending machines are designed for continuous use over many years. They offer maximum flexibility but are especially precise and reliable as well. Our high quality standards mean you can reduce downtime and unnecessary interruptions of your production processes to a minimum. Moreover, an extensive accessory set means the machines can be customised to the individual requirements of your production process.
Your long-term partner
We see our company as a specialist technology partner for high-performance and future-proof bending solutions. Innovation and quality go hand in hand. Thanks to our decades of experience, we are able to develop customised bending solutions based on the individual requirements and features of your production process without compromising our high quality standards. We offer you an incomparable package of innovation, services, experience and quality "Made in Germany".
The benefits at a glance
Our CNC Twin and Rotary tube bending machines have been designed specifically for more complex tube bending applications in series and large-scale production. If you would like any further information or you need advice about your individual specifications, please contact us without obligation.
Maximum flexibility

Fast, efficient and precise

Multi-radius technology

Extensive range of optional extras

Complex geometries: change of bending direction during the cycle

Suitable for three-shift operation

Automation option available
Customised bending solutions: more than the sum of their parts
Individual requirements call for individual solutions – the entire package needs to be right.
Our modular machine and accessory ranges enable us to work with you to tailor the most efficient tube bending solution for your application. From optimal tooling for your machine and smart and user-friendly control systems to high-precision measuring devices and software-based tube bending simulation: there are virtually no limits to the available options. Our many years of experience working with customers in different industries helps us to find the right technology and service solutions for your specific requirements.
HIGH PERFORMANCE – tube bending machines for series and large-scale production
The CNC tube bending machines from our HIGH PERFORMANCE range are the perfect answer to the exacting requirements of series and large-scale production. Thanks to their speed, performance and flexibility, our modular tube bending solutions allow fast cycle times without compromising manufacturing quality.
We offer different approaches to suit every requirement. In addition to our tube bending machines with two bending heads, we supply a wide range of single-stack and multi-stack machines and complete bending cells as fully automated package solutions.
Please feel free to contact us for advice about the right machine for your needs.
Single-stack CNC tube bending machines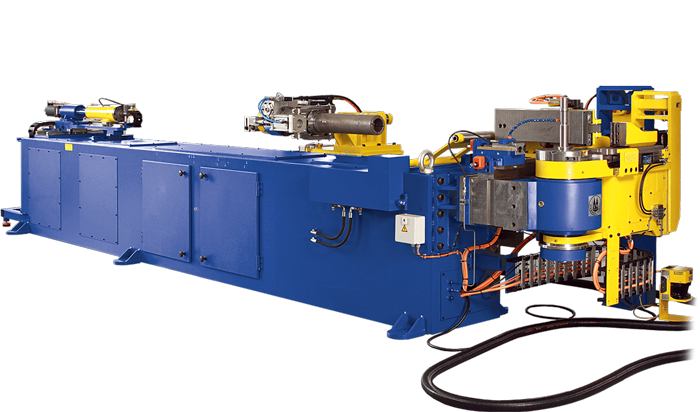 Multi-stack CNC tube bending machines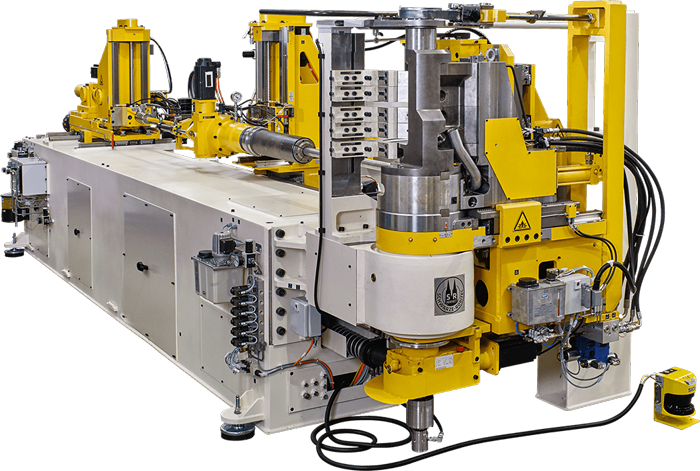 Fully automated bending cells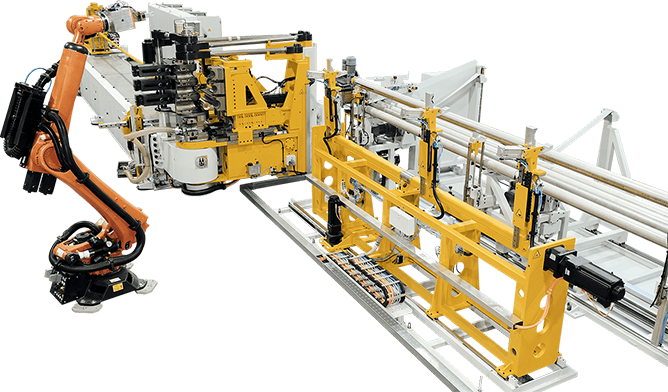 The world's leading expert in tube bending machines
We are a world-leading company with decades of experience in developing and producing high-quality tube bending machines. From machines for custom manufacture and small batches and tube bending machines for large-scale production to special units for highly complex tube geometries – we have the right solution for every tube diameter, application and industry. Whether you are looking for a hydraulic, (part-)electric or hybrid drive, a smart EcoLine package or a combination with one of our modular equipment options, our portfolio includes the right solution for your specific needs.
See for yourself or contact us directly for an individual consultation.