Battery Show North America: Schwarze-Robitec – a strong production partner for e-mobility
With 120 years of experience, Schwarze-Robitec is now one of the world's leading tube bending partners for e-mobility. This year, for the first time, the German company will present itself at the Battery Show North America. From September 12 to 14, the show in Novi, Michigan, will bring together experts and interested parties with nearly 800 exhibitors from the battery, electric and hybrid vehicle technology sectors. Schwarze-Robitec will present its expertise in busbar bending machines and fully automated production cells and lines that optimally meet the high production demands of the e-automotive industry.
Production speed, precision and machine availability are among the most important competitive factors in cycle time-driven automotive production. The bending machine manufacturer Schwarze-Robitec has geared its machines to precisely these requirements – which is why almost all renowned manufacturers from the classic and e-car industries rely on the bending technology from Cologne. The visit to the Battery Show Europe in Stuttgart in April was a resounding success for Schwarze-Robitec. Now the company is also showing the North American public the advantages the technology offers for series production in e-mobility. The compact bending machines of the Orbital and HS series bend individual busbars and entire systems into complex geometries in an efficient and fast process. Both round and flat material made of materials such as copper and aluminium can be bent with and without insulation. The intelligent NxG machine control potentiates the speed of bending even further by preparing all axes for the next step while the process is still running.
From the rotating bending head for bending on both sides to the magazine for tube feeding and the quick tool change: All systems from Schwarze-Robitec can be completely individually configured. With the design of fully automated production cells for rod material and production lines for coil material, Schwarze-Robitec makes it possible to integrate numerous upstream and downstream steps, such as punching and stripping of the current conductors, into the process without increasing the cycle time. The bending experts also integrate third-party systems such as robots for a smooth production process. In North America, Schwarze-Robitec is represented by a subsidiary in Grand Rapids, Michigan.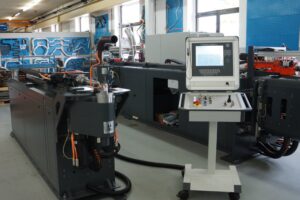 At booth 1628, visitors to the Battery Show North America will have the opportunity to get to know this strong partner for e-mobility. The experts from Schwarze-Robitec will be there to answer all questions about tube and busbar bending and production automation.