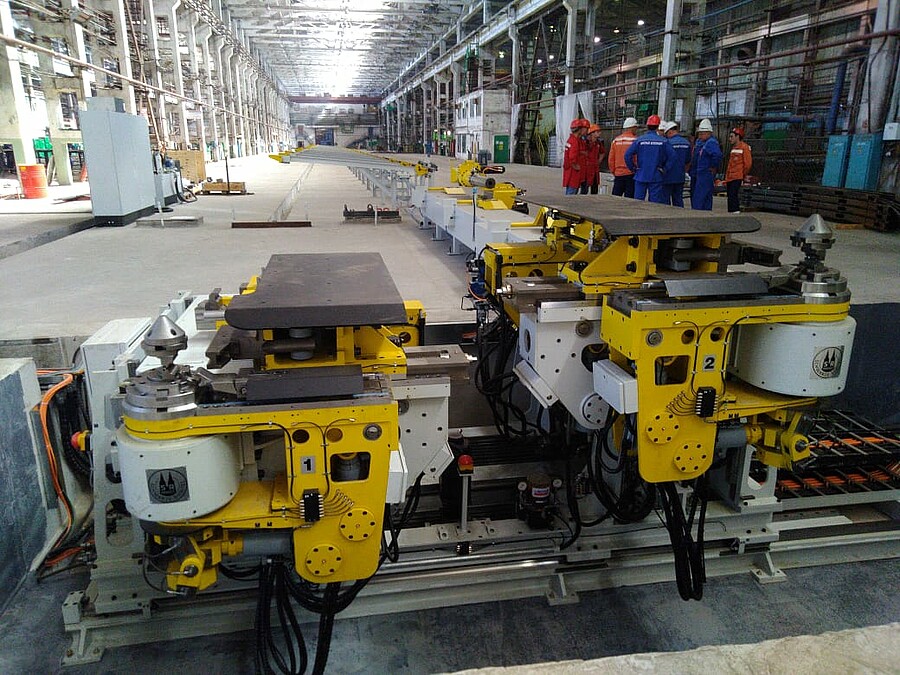 Schwarze-Robitec machine used for boiler construction
Twin booster bending machine processes 90-metre-long tube serpentines
Russian boiler manufacturer Krasny Kotelshchik bends 90-metre-long tubes into bending membrane walls consisting of numerous 180° single bends. Modern power plant construction requires powerful machines that can bend challenging materials according to strict specifications. The large dimensions require particular structures in the bending process. Germany-based tube bending machine manufacturer Schwarze-Robitec designed the CNC 60 DB Twin booster bending machine for the Russian company complete with a 90-metre-long tube magazine and a supporting table with a 10 metre radius. The machine was recently put into operation.
Modern power plants continuously supply the exact amount of electricity required in the grid. The higher their process temperatures are, the higher their level of efficiency. Constantly starting up and shutting down the power plants leads to extreme fluctuations in temperature. This is something that the pipe lines made of high-strength or resistant materials must be able to withstand. In addition, there are high pressure conditions inside to contend with. Boiler and power plant manufacturers aim to maximise the surface area to ensure the highest level of heat transfer. Tubes therefore need to be bent in narrow radii and must fulfil strict tolerance specifications in terms of wall thinning and ovality. Tube bending machine manufacturer Schwarze-Robitec was able to fulfil these requirements for its Russian client Krasny Kotelshchik. As one of the leading Russian companies for boiler and thermal power plant construction, Krasny Kotelshchik manufactures fired steam boilers and waste-heat boilers in Taganrog, southern Russia. More than 80 percent of power plants in Russia and the CIS countries are equipped with heat-exchange equipment from Krasny Kotelshchik.
Two bending directions, supporting table and tube magazine
Twin machines with two bending heads have become the preferred set-up for the time-efficient production of complex tube serpentines. They give the user a great degree of flexibility and ensure an efficient production process – where it would otherwise quickly reach its physical limits. This is because Krasny Kotelshchik bends tube serpentines consisting of numerous 180° single bends in a row. Each tube section alone is up to 10 metres in length. Therefore, the corresponding tube system cannot be rotated as a whole for each subsequent bend. Instead, the CNC 60 DB Twin booster bending machine supplied by Schwarze-Robitec bends in both directions using two bending heads. The bending head that is not required moves to the side under the tube system. For this reason, the machine is installed in a pit in the production hall. Schwarze-Robitec has also set up a supporting table measuring 20 metres in diameter above the pit and around the bending head. The tube system is laid out on the supporting table during the bending process. Krasny Kotelshchik is thus able to avoid any unwanted deformations caused by the enormous weight of the tube systems being manufactured. In a round opening in the middle of the table, a separately controlled driver supports the outer tube end during the bending process. The Schwarze-Robitec design also features a 90-metre-long magazine which directs the tubes to the bending machine. In the upstream stage, Krasny Kotelshchik welds the tube sections together.
A sophisticated design for a sophisticated bending task: the CNC 60 DB Twin from Schwarze-Robitec bends tubes with an outside diameter of up to 63.5mm and with a wall thickness of up to 5mm. The booster bending machine is designed for continuous year-round use and impresses users with its high-precision bending results.