Schwarze-Robitec at Fabtech 2023: Automation brings efficiency and sustainability to the bending process
At this year's Fabtech, German bending expert Schwarze-Robitec will focus on highly automated bending for efficiency- and sustainability-driven industries. The CNC 80 E TB MR fully-electric multi-radius tube bending machine with integrated cutting device on booth D42218 will go to Canadian customer Active Dynamics after the show as part of an entire new bending cell. Short cycle times, enormous precision and efficiency: the advantages of the high degree of automation meet here with a sparing use of resources.
From September 11 to 14, Schwarze-Robitec will be represented at the Fabtech metalworking trade fair in Chicago. At the booth, international trade visitors can see the fully electric multi-radius tube bending machine CNC 80 E TB MR with integrated cutting device in action. The left-hand bending machine processes tubes at a tube length of around 20 ft (6 m). Directly during the bending process, tubes up to 3'' (76.2 mm) in diameter are cut with excellent cut quality. In this way, the bending machine manufacturer from Cologne is once again optimizing its proven technology towards a more sustainable use of resources. Other machine features include the intelligent NxG control system and the vertically movable pressure die.
After the trade show, Schwarze-Robitec will deliver the machine to the Canadian OEM supplier Active Dynamics. There, the allrounder will be integrated into a bending cell. In this way, Schwarze-Robitec links further upstream and downstream steps to the bending process while maintaining the same cycle time. For space reasons, however, only the machine itself will be on display at Fabtech. Active Dynamics, headquartered in Toronto, Canada, develops, among other things, emission control systems, gas extraction technology as well as solutions and components for thermal management and acoustic performance. The company already has several machines from Schwarze-Robitec in use, which also enable the bending of tubes with other dimensions.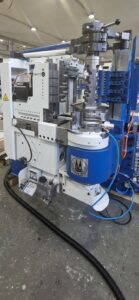 Visitors to Fabtech will meet the experts from Schwarze-Robitec at booth D42218 – both the tube bending experts based in the USA and those traveling from the headquarters in Cologne are looking forward to a lively exchange.