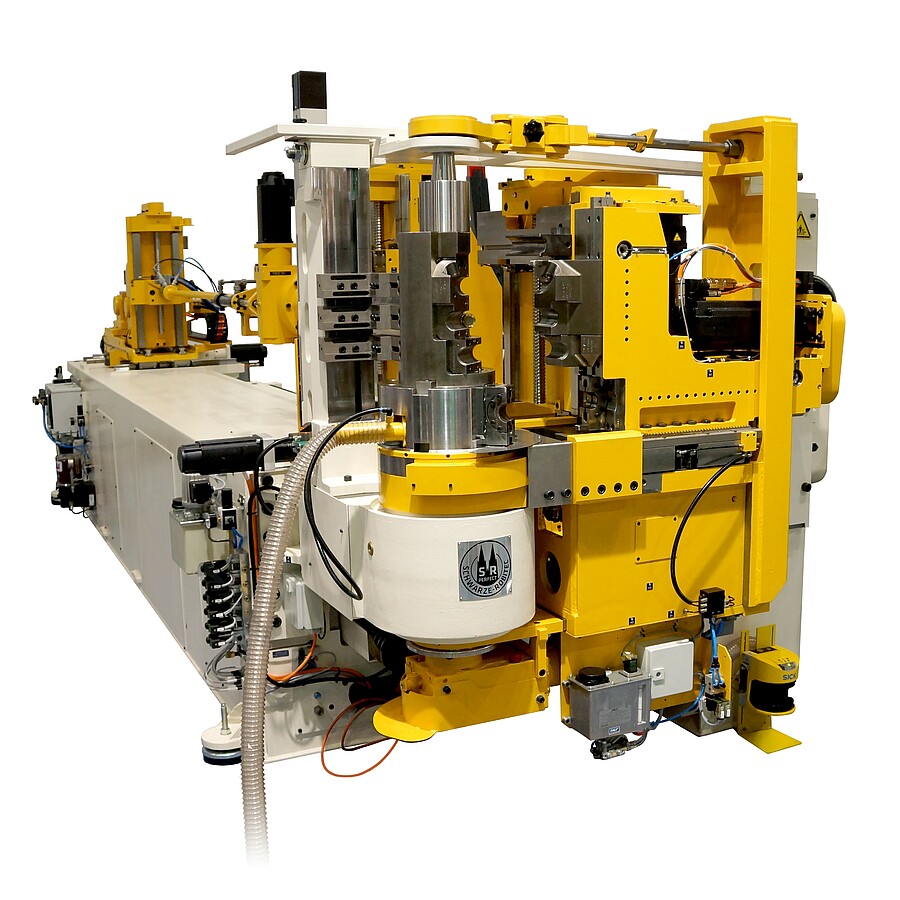 High efficiency tube bending
Fully equipped for Fabtech 2021: Schwarze-Robitec is gearing up
The industry has been waiting long for this – Fabtech 2021 in Chicago is expected to be one of the first major events where metalworkers from all over the world will meet again after a long pandemic break. Schwarze-Robitec is also eagerly preparing for the fair: The tube bending machine manufacturer from Cologne, Germany, is presenting the fully equipped, fully electric CNC 80 E TB MR multi-radius tube bending machine, an absolute allrounder for tube bending.
Designed for high volumes, short cycle times and resource-saving material handling, the highly efficient CNC 80 E TB MR is perfectly matched to the requirements of the automotive industry, for example. Production time is reduced by up to 40 percent compared to conventional machines, depending on the component and the desired tube geometry. Material waste is reduced by 90 percent. The contact pressure can always be optimally gauged, while tool costs and changing times are reduced. Overall, the use of the CNC 80 E TB MR increases repeatability and process reliability.
Highly efficient tube processing thanks to numerous features
All these advantages are possible thanks to numerous features of the machine from Schwarze-Robitec's high-performance series: It bends and cuts tubes in a single work step thanks to an integrated fully electric cutting device. Thanks to extended vertical transport carriage, this is also possible despite the multi-stack bending tool. A vertically adjustable pressure die moves to the different levels for bending synchronously with the tube. The intelligent NxG control checks the interaction of all machine axes for each bending sequence and simultaneously prepares all axes for subsequent steps. In addition, the CNC 80 E TB MR is equipped with the Quick-Tool-Unlock tool changing system in combination with a rapid clamping system for the bend former. This makes it easy to open and close the tension bars for tool changing, while no bolts are required to fasten the bend former to the turntable.
So, after the worldwide pandemic-induced trade fair break, Schwarze-Robitec is now fully gearing up with the fully equipped CNC 80 E TB MR: The tube bending machine manufacturer is looking forward to meeting customers and interested parties from application industries such as automotive and aerospace, plant engineering and shipbuilding again for direct exchanges at Fabtech from September 13 to 16. At booth D45954, Schwarze-Robitec will illustrate the enormous competitive advantages that its bundled competence in tube bending brings to its users.